It looks like your brand is somewhat important to you.
Good news: we can check if it is trademarkable.
A comprehensive search is included in all our packages.
If your brand is trademarkable, we can help you trademark it with a guaranteed result for a guaranteed budget.
And if not, you can get a full refund.
Would you like to have a free call with one of our strategy advisors about that?
If not, we suggest you check out our free book,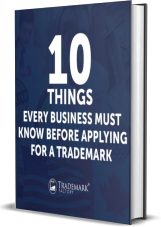 10 Things You Must KnowBefore Applying For A Trademark
Check your inbox for the book we've just sent you!